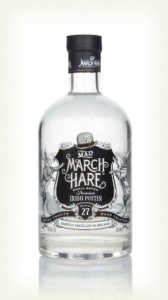 This month, Mad March Hare is inviting bartenders to 'March to your Own' by creating a signature Mad March Hare serve. One lucky bartender will win a Mad March Hare hamper and a trip to Bar Convent Berlin 2020 with flights, accommodation and entry included. The Bar Convent Berlin has been the most important international event for the bar and spirits industry for the past 12 years, attracting more than 15,000 visitors from 86 different countries to test new creations, do business, generate knowledge or simply meet their friends in the global community.
The competition is open to professional cocktail bartenders on the island of Ireland (including Northern Ireland) and runs for the whole month of March. Entries should be sent by DM to @madmarchharepoitin on Instagram or Facebook and include the cocktail name, ingredients and a photo of the serve with a bottle of MMH, as well as brief explanation of inspiration. Marks will be awarded for name, presentation and the inspiration for 'March to your Own'. Three finalists will be chosen to compete live in front of an industry panel while the winning cocktail will also be featured at the Mad March Hare 2020 Poitín Party later in the year.
Since its release in 2014, Mad March Hare Irish Poitín has become an important player in the emerging Poitín category and has won a number of awards including Best Irish Poitín at the Irish Whiskey Awards in 2019. This success is led by independent Irish company Intrepid Spirits whose growing portfolio of niche brands and distribution in key markets has made Mad March Hare the number one Poitín brand in the USA.